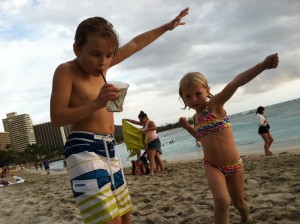 Ever gone on vacation and wished to pretend to be someone else for the week? Just really get away from it all, including yourself?
My oldest daughter spent our Hawaiian vacation being a boy.
Chicken Noodle, nee' Elizabeth, most often known as Libby, announced upon arrival in Honolulu that she was now to be referred to as Eli. And that she was a boy, and would only do and wear "boy things."
Given that the day before we left, she'd undergone a radical haircut, and also that Eli/Libby/Noodle has a rather forceful personality we're all long accustomed to, the transition was fairly seamless. Chicken Little gave a brief nod. I—total fan of masquerade and espionage, myself—gave my approval.
Grandma took a half-second to get on board, but then she was there all the way. "Eli, would you like to play a game of Rat-a-tat Cat? It's gender neutral."
Eli wore the same clothes every day—that which we'd brought that was "most boyish." Life is Good tee-shirt, black shorts.
I'd promised both chickens new swimsuits. At Macy's in Ala Moana Center, the sales lady automatically pointed Little in one direction and Noodle in the other. I followed Eli to the boys section where we purchased a crisp new pair of Quicksilver board shorts and some black flip-flops. (Little selected a fine Hello Kitty floral bikini and a plumeria barrette for her hair).
At the beach, my children taught themselves to boogie board. They met a new friend named Grace. Little introduced Grace to her brother, Eli. The dynamic of being both oldest and male gave Noodle even more reason to boss everyone around than usual.
At our favorite beach bar, where we get drinks with pineapple and umbrellas on top, the waitress called Eli "sir." She was elated. I grinned and agreed that it was awesome.
I was slightly less amused when my daughter got booted out of the ladies room a few minutes later by a self-righteous middle aged guest. I asked Noodle what she said to the lady who'd demanded she vacate the premises.
"I told her I was waiting for my sister," Eli replied.
"You could have just told her you're a girl," I pointed out. Eli hadn't considered that option.
Near the end of our trip, we went to Chinatown. There were a lot of pretty dresses in Chinatown. I saw Eli's commitment to boyhood waver in the face of all of those flowing tropical prints.
She selected a fringed sarong, albeit in blue.
On the plane home, I said, "So who's going back to the second grade? Eli or Libby?"
She wasn't sure.
"Hello, Eli!" Captain Daddy (who had been kept abreast of the situation via text message) greeted her back at home.
"Daddy, it's Libby!" she corrected and threw herself into his arms.
Macy's issued a full refund for the board shorts.