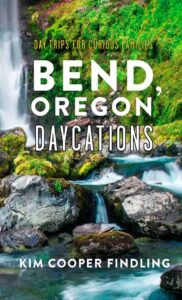 Book event!
Thursday June 9, 2022 at 6 p.m.
Roundabout Books, Bend, Oregon
Please join us for this in store event at Roundabout Books.
Hey Bend, Oregon Lovers! Today is a great day for a day trip.
Announcing the second edition of Bend, Oregon Daycations: Day Trips for Curious Families, by award-winning Oregon author Kim Cooper Findling. Beginning with its launch as a best-seller, including a rank as the #1 selling book of 2017 for Bend's Roundabout Books, Bend, Oregon Daycations has been the must-have guidebook popular with families and newcomers curious about the exciting destinations that surround Bend, Oregon. Now the book has been updated to include maps, more destinations, and more fun one-day travel narratives for families. Learn what to take, where to go and what not to miss on 23 Oregon day trips within a two-hour radius of Bend.
Follow easy itineraries packed with information to explore these places and more—
The Painted Hills: Take a hike, learn Oregon's geologic history and eat homemade pie.
Newberry Crater: Explore an obsidian flow, dip your toes in the lake and see a waterfall.
The Umpqua River: See 17 waterfalls, visit a historic fishing lodge and witness two rivers colliding.
Crater Lake: Take a boat ride in a volcano, eat in a 100-year-old lodge and contemplate the United States' deepest lake in Oregon's only national park.
Tumalo Falls: Hike up a canyon along a creek to a wildflower-laden meadow beyond Bend's backyard waterfall.
---
Kim Cooper Findling is the editor of Bend Magazine, the publisher of Dancing Moon Press and an author, editor, journalist and teacher based in Bend, Oregon. She is a fifth-generation Oregonian and an award-winning writer of stories about her beloved home state.
For the last two decades, she has worked as a magazine editor, travel writer, memoirist, journalist, teacher and author. She is currently the editor in chief of Oregon Media and the editor of Bend Magazine and Via, the magazine of AAA Oregon/Idaho. She has authored nine books: Bad Mommy Bad Writer: Writing From Home While Keeping the Kids Alive; Day Trips to the Oregon Coast: Getaway Ideas for the Local Traveler; The Sixth Storm (co-authored with her daughter, Libby Findling); Bend, Oregon Daycations: Day Trips for Curious Families; Day Trips From Portland: Getaway Ideas for the Local Traveler; Chance of Sun: An Oregon Memoir and, as reviser and editor, Scenic Driving Oregon and Oregon Off the Beaten Path.
Her work has appeared in dozens of magazines and literary journals, and Kim teaches writing workshops to children and adults around the Pacific Northwest. She lives in Bend, Oregon with her husband, three teenagers, two cats and one betta fish named Romeo. As often as possible, she's on the Oregon Coast.
Event date:
Thursday, June 9, 2022 – 6:00pm