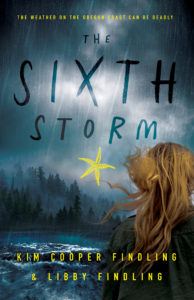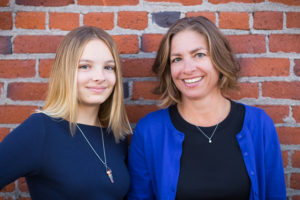 The weather on the Oregon Coast can be deadly.
Every January, Skye Clancy's mother slips into despair on the anniversary of a devastating storm that claimed her sister. But no one is allowed to talk about it, or any of the other strange deaths that have haunted the family. This January, days before Skye's 14th birthday, a new set of vicious storms are unleashed upon her small Oregon Coast town. Clues begin to appear, and Skye realizes that the weather is tormenting her family above all others, and has been for decades. As a family legacy of death and destruction by terrible weather is revealed, and in the face of nature's fury, Skye embarks on a journey into the wild woods of Oregon—and into the past—to solve the mystery and reverse the curse.
Oregon-Based, Mother-Daughter Writing Team Release
Teen Mystery Novel The Sixth Storm
The Story Set In the Fictional Town of Starfish Cove on the Oregon Coast Uncovers Family Secrets, Brave Girls and Spectacularly Bad Weather
Bend, Oregon – Dancing Moon Press announced today The Sixth Storm written by award-winning author Kim Cooper Findling and her teenage daughter Libby Findling is available for preorder now and set to release March 1, 2019. This mystery, inspired by the unpredictable Coastal Oregon weather, is their first collaboration. The story is riddled with Oregon-centric themes and familiar landscapes where the main character Skye takes readers on a thrilling journey
"One night as I was putting Libby to bed she said something incredible about the tumultuous weather that set the whole book in motion," says Kim Cooper Findling. "Libby was my catalyst, muse and editor, and writing a book with her was a total blast."
"I loved creating this mystery with my mom," says Libby Findling. "Our main character can be introverted, but she is also strong and independent. There is a looming fear of death hanging over the family, and Skye takes up the challenge to figure out what is going on."
Kim and Libby spent three years writing the book and pitching it to agents and publishers. In that process, the opportunity to purchase a small book publishing company came up and Kim could not refuse. So in addition to releasing this book, Kim will help hundreds of authors realize their dreams of publishing their own work through Dancing Moon Press, a 22-year-old Oregon independent book publishing company.
Kim and Libby will begin a speaking tour this spring with stops at Bend LaPine School District locations and local bookstores in the Pacific Northwest. For a schedule of appearances see Upcoming Events.
ABOUT THE AUTHORS:
Kim Cooper Findling is an Oregon Coast native, a fifth-generation Oregonian, the publisher of Dancing Moon Press, an editor for Oregon Media and the author of Bend, Oregon Daycations: Day Trips for Curious Families, Chance of Sun: An Oregon Memoir and Day Trips from Portland: Getaway Ideas for the Local Traveler.
Libby Findling is a sixth-generation Oregonian and a student in Bend, Oregon. She is an accomplished actor, musician, comedienne, writer and storyteller. She loves rivers, rain, wandering the forests of Oregon and jamming out to blasting music. In the future, she hopes to create songs, films, and more books.
The Sixth Storm is available from Ingram, Amazon, at local bookstores, and from the authors. The authors are available for interviews and speaking engagements. See dancingmoonpress.com and kimcooperfindling.com.
The Sixth Storm
Paperback Release date: March 1, 2019
See Kim & Libby on Central Oregon Daily Talking About Their Book
EVENTS:
March 1, At Liberty, Muse Conference, Bend, Oregon, Book Signing, 5:30 to 7:30 p.m.
March 5, Joolz Restaurant, Bend, Oregon, Launch Party! 5:30 to 7:30 p.m.
March 16, Deschutes Public Library, Local Authors Fair, 2 p.m.
May 18, Roundabout Books, Bend, Oregon, Reading and Signing 1 p.m.
May 19, Grass Roots Books, Corvallis, Oregon, Reading and Signing, 3 p.m.
July 14, Deschutes Public Library, Bend, Oregon, Reading and Workshop, 1 p.m.
August 23, Roundabout Books, Bend, Oregon, Local Authors Night Reading and Signing, 6 to 8 p.m.
August 20, Newport Visual Arts Center, Newport, Oregon, Reading and Signing, 5:30 p.m.
BOOKS AVAILABLE AT:
Dudley's Bookshop, Bend
Roundabout Books, Bend
West Coast Provisions, Bend
Bob's Beach Books, Lincoln City
Gold Beach Books, Gold Beach
Beach Books, Seaside
and online
Retail $9.99
ISBN 978-1-945587-32-0
ISBN 978-1-945587-35-1
Ebook $3.99