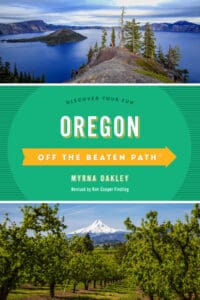 OREGON OFF THE BEATEN PATH
Revised by Kim Cooper Findling – By Myrna Oakley
9781493053612 • Paperback • July 1 2021
$17.95 • 290 pages
I had the honor of being selected to revise the twelfth edition of the classic travel book OREGON OFF THE BEATEN PATH, by Myrna Oakley, who has retired. Originally published in 1991, the book is due out in its new and improved version June 1, 2021.
Whether you're a visitor or a local looking for something different, Oregon Off the Beaten Path shows you the Beaver State with new perspectives on timeless destinations and introduces you to those you never knew existed.
Experience the restorative power of mineral waters at Belknap Hot Springs after a day of hiking the McKenzie River National Recreation Trail.
Watch Shakespeare's works come alive in Ashland's authentic outdoor Elizabethan Theatre.
Escape the bustle of the city with a stroll through one of Portland's many gardens, including The Grotto and Japanese Gardens.
So if you've "been there, done that" one too many times, forget the main road and venture Off the Beaten Path.
EVENTS:
July 6, Roundabout Books (virtual event), Bend, Oregon, 6 p.m.