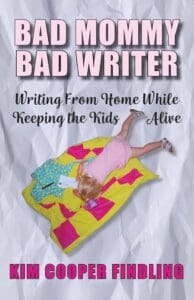 "I love your book! I went in expecting a book about how hard it is to work when your kids are young, but it's so much more. It's really a book about hope and heartache and wonder and love and all of the things that make motherhood beautiful. I think you are the perfect guest to have on the show for our Mother's Day edition! I can't wait to have you on. Your book is a GEM!!!!"
-Laurie Halter, host of the podcast Carearing, who interviewed Kim on Mother's Day, 2021: Listen Now
**
"A perfect heroine's journey."
-Kelly Lynne Schaub, book editor
**
AVAILABLE NOW!
June 8, 2021
Book Release:
Bad Mommy, Bad Writer
Writing From Home While Keeping the Kids Alive
June 8, 2021, Bend, Oregon – The pandemic made working from home while caring for small children all too real for many parents. Growing a career alongside the kids is at once impossibly difficult, positively hilarious, and just rewarding enough to keep you from walking out on the job. A new memoir releasing June 8, 2021, Bad Mommy Bad Writer: Writing From Home While Keeping the Kids Alive, follows one woman's quest to make something of herself already—during naptime. Author Kim Cooper Findling is a publisher, editor and author of many books, but not too long ago she was just a mother of young kids trying to get her career off the ground.
The story begins: Me: Mother, wife and writer watching forty climb the front steps like a peddler pushing time, and me with nowhere to hide. The writer part used to come first, the forty used to be thirty, and marriage and motherhood were abstract activities I thought I'd try someday. Ah, growing up. If only it was the thrill promised when we were six. All I want in the whole wide world besides being a good mother to my two tiny daughters is to be an author. But writing is hard. And the publishing industry is a beast. And I am terrified of failure. And most of my days are spent trapped under a pile of plastic princesses or scraping peanut butter off of the wall. Will I pull this author thing off? Or will I ditch writing, adopt a Xanax habit, abandon my own identity and live the rest of my life vicariously through my children? Hmm, let's find out.
"This book was my pandemic project," said Findling. "My children and I were all home together again, and it reminded me of the early days of my career when I'd been so desperate to become an author while also determined to stay home with my daughters. As every parent knows, this methodology delivers mixed results on a daily basis."
At turns hilarious, heartwarming, inspiring and irreverent, Bad Mommy Bad Writer is an examination of what it takes to make it as a writer, an honest look at the messy and lovable business of parenthood, and a deep dive into the daily conflict faced by every work-from-home parent—self vs. family. Bad Mommy Bad Writer is a story of having it all: of going hard after your dreams while keeping a sharp eye on job number one—those precious darlings who really could care less about your deadlines.
This is Findling's eighth book. Her previous titles include Day Trips to the Oregon Coast, Day Trips from Portland and The Sixth Storm, with Libby Findling. She lives in Bend, Oregon with her husband, three teenagers, two cats and a betta fish named Romeo. See www.kimcooperfindling.com.
Bad Mommy Bad Writer: Writing From Home While Keeping the Kids Alive
Dancing Moon Press
Release date: June 8, 2021
ISBN: 978-1-945587-68-9
Media contact: Kim Cooper Findling
kim@kimcooperfindling
Available at online and local booksellers
–
EVENTS:
July 22, Roundabout Books (virtual event), Bend, Oregon, 6 p.m.