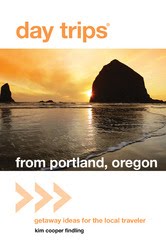 Not really. I am madly in love with my gorgeous blonde first-grader Chicken Noodle and would not part with her for a million dollars or even a new Toyota Highlander or an all-expenses-paid trip to New York City, both of which I really want for Christmas.
I'm talking book-children here.
Ever since the release of my second book-child in July, "Chance of Sun: An Oregon Memoir," I've been neglecting my first book-child, "Day Trips From Portland: Getaway Ideas for the Local Traveler," which was released in May.
So fallibly human to worship the fresh new thing, even if its "new thing" predecessor is only two months old.
This week I am going to make amends, lavishing still-sparkly-and-fresh "Day Trips" with love, attention and flattery. Look for an excerpt a day through the next week, as well as trivia questions from the book.
Think you know Oregon? Prove it and win a free book. The trivia game will culminate with a fabulous book give-away on Black Friday.
Yee haw, babies! Free books! Can you stand it? Almost as thrilling as marshmallows in the Jello salad on Thanksgiving.
Know anyone who lives within a 200-mile radius of Portland? "Day Trips From Portland" really does make a great holiday gift.
Day Trips from Portland, Oregon is your guide to hundreds of exciting things to do, see, and discover in northwest Oregon and southwest Washington. This book is rich with tips on where to eat, shop and stop in dozens of cities within a two- to three-hour drive from Portland, including Astoria, Bend, McMinnville, Oregon City and many more. Don't miss a thing, including world-class wineries, art galleries, historical sites, recreation destinations and restaurants. Find hidden gems, like an amusement park populated with elves and fairies, a beach made of black cobbles, the West's only UFO festival, Oregon's last drive-in movie theater, and a 28-foot tall concrete Bigfoot. Discover the lost art of a great day trip with Globe Pequot Press's Day Trips From Portland, which includes full trip planning information, maps and directions. A great gift for Portlanders, Oregon lovers, and wanderers alike.
 Stay tuned 'til tomorrow, when I'll post the first blurb and first trivia question.
If you simply cannot go on another moment without ordering a copy right now, try Powell's or Amazon. It's on Kindle, too!
And don't anybody get any wild ideas about Noodle. I'm keeping that little toothless vixen under my own tree.