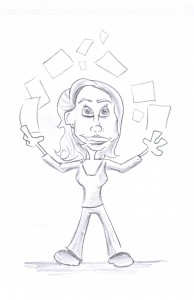 I've said this before, but man o man, the last 18 months have been quite a ride!
July 1 marked the first anniversary of the publication of Chance of Sun: An Oregon Memoir. The day was also my first on the job as the editor of Central Oregon Magazine.
That's Editor with a capital E. Though, when asked what title I would prefer, I did vie for Queen. No one bought it.
I am totally thrilled. I've written for Central Oregon Magazine since its inception. The content of this lifestyle magazine is near to my heart—the people, places, events, delights and flavors of one of my favorite places on earth, Central Oregon. I am really excited to work with a great publishing team, work closely with freelance writers, meet even more fabulous and interesting people in this neck of Oregon, and finally use some of the quirky and wacky story ideas I've not managed to convince other editors to use.
I'll still be maintaining my freelance ties to such outstanding organizations as Travel Oregon and the like. I love my Ask Oregon gig and staying connected to the whole region. One of these days, I'll write another book, too.
Pretty stoked, people.
This illustration was drawn by Central Oregon Magazine creative director, Brian Page, in a meeting of the crack sales and creative team behind the magazine. It's me. The last few insanely busy weeks, I've felt that juggle of paper, and other objects, too (oh jeez, has anyone seen my children?).
But wow—how much fun is this going to be?
P.S. I am most definitely open to pitches, story ideas and connecting with new freelance writers. Email me at [email protected].