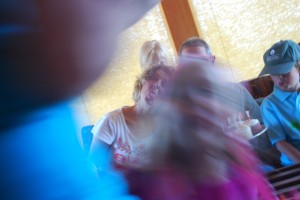 Can't resist posting this one, which came in yesterday from my sister K. She's vacationing in France with her husband B, son O (9) and daughter R (8).
Anyone who has ever traveled with children will relate to this tale, which is ripe with the inherent perils of taking small people out of their natural environment.
Yesterday on very winding mountain roads O puked in the rental car twice (first time he's ever been car sick). Before I could pull over O puked again and R went exorcist and projectile vomited out of her nose and mouth.
Entire back seat of rental car in country we can't communicate in covered in puke.
By the time I could pull over (rental car's a stick, husband can't drive, shit) both kids spill out of car and continue puking.
I was so shocked I took pictures.
B hugged.
Then I pulled an 'I can't get near it or I will puke' (clearly R is related to me). B bravely and effectively cleaned it up with bags and boxes I found in the trash can near the highway.
Beat that.
My sis is behind one of my favorite quotes on this subject, which she may have recalled during the French Vomit Incident.
"Vacationing with children is like regular life, only harder, but with a better view."
I used that quote in an essay I titled "A Better View," which I found out two weeks ago is going to be included in a Chicken Soup For the Soul book, to be published next year.
Far out. And thanks, K!
Carry on, brave sister! Count on me to keep your battle stories alive.