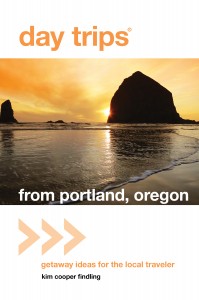 Today's Trivia Question:
Which Oregon city boasts the only vertical street in North America?
Email me your answer today!
Friday's Trivia Question and Answer:
In what Oregon city was there a 1950 UFO sighting, photos of which landed in LIFE magazine?
McMinnville. The sighting was never verified, but caused much hoopla nevertheless, and is marked by a UFO Festival at McMenamins Hotel Oregon each year.
Today's Excerpt:
From the chapter:
Farm Country
Forest Grove
Strawberry Fields Forever
My mother grew up in Forest Grove. For forty years, my grandparents ran a hardware store in downtown. Some of my mother's fondest childhood memories are of walking directly from school the store each day, where she would do her homework and help her parents until it was closing time. She also recalls being released from school early, in May instead of June, to go pick Oregon's famous strawberries. The rich soil of the northern Willamette Valley produced oodles of the delicious fruit beginning around mid-May, and the region's schoolchildren temporarily became day-laborers. They were paid by the flat, and went home with sticky fingers. During the 1950s and 1960s, Oregon farmers grew 90 to 100 million pounds of strawberries. Today, that number is closer to 20 million, and Oregon ranks third in the nation in strawberry production—a distant third to Florida and California. Still, many Oregonians—including my mother—would argue that ours are the best.
We have to wait through a bunch of long cold wet winter days until those juicy berries….something to look forward to!
Day Trips From Portland: Getaway Ideas for the Local Traveler." Read More. Purchase.