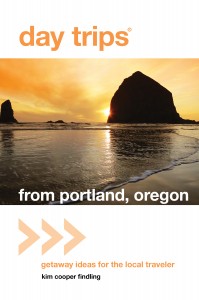 Today's Trivia Question:
What Oregon city, filming site of The Goonies, Kindergarten Cop, Into the Wild, and many more movies, is now home to the Oregon Film Museum?
Send me your answer today! Last day of the trivia blitz–I'll choose a book winner on Black Friday.
Yesterday's Question and Answer:
Where in Oregon can one find a life-sized Glockenspiel?
Mt. Angel, where, rising 49 feet at the corner of Charles and Garfield streets in the center of town, the Glockenspiel celebrates the Native-German-Swiss-Bavarian heritage of the village and the city's world-famous Oktoberfest held each fall.
Today's Excerpt:
From the chapter:
The Slopes of Mt. Hood
Wy'east
The Multnomah Indian tribe called Mt. Hood Wy'east. In one version of the legend, two sons of the Great Spirit Sahale fell in love with the beautiful maiden Loowit. But she couldn't decide who to choose. The two braves, Wy'east and Klickitat, burned forests and villages in their battle over her. Sahale became enraged and destroyed the three lovers. He erected three mountain peaks to mark where each fell—Mount St. Helens for Loowit, Mt. Hood for Wy'east, and Mount Adams for the mourning Klickitat.
On this day that I'll be driving over the Cascade Range in a blustery storm, it's appropriate to think of our mountains as angry lovers. Happy Thanksgiving to all, and safe Oregon travels!
Day Trips From Portland: Getaway Ideas for the Local Traveler." Read More. Purchase.