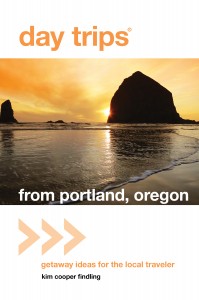 Today's Trivia Question:
In what Oregon city was there a 1950 UFO sighting, photos of which landed in LIFE magazine?
Email me your answer today!
Yesterday's Question & Answer:
What is the name of Oregon's oldest bookstore, and where is it located?
Klindt's Books in The Dalles, which opened in 1870! How awesome is that? I'll be there for a reading in the next few months! Stay tuned.
Thanks to those who responded!
Today's "Day Trips From Portland" Excerpt:
From the chapter:
Be a Duck
Eugene
The Oregon Country Fair
Some events just have to be experienced at least once in a lifetime, and the Oregon Country Fair is one of them. For forty years, organizers have been putting on this groovy gathering in the woods outside of Veneta, 13 miles west of Eugene. In some ways, the Oregon Country Fair is just another summer celebration, with loads of entertainment, hand-made crafts and delectable foods. In other ways, the Fair is a mind-blowing adventure with magical surprises at every turn. Creativity, costumes (or—ahem—lack thereof) and the nourishment of the spirit in every way imaginable are enthusiastically encouraged. The last time I visited, I saw a woman with a typewriter in her lap selling made-to-order poems, a man painted from head to toe as a butterfly (and wearing nothing but the paint), a pirate on stilts and a gigantic bicycle-powered, paper mache'd vehicle called a "hippypotamus." The Oregon Country Fair epitomizes Oregon's free spirit and, if nothing else, is an entirely welcome alternative to your average summer festival. Held the second weekend in July every year. www.oregoncountryfair.org.
Here are a couple of photos I took last time I attended the Fair. I wish I was there right now!
"Day Trips From Portland: Getaway Ideas for the Local Traveler" is available at Powell's or Amazon as well as many bookstores. It's on Kindle, too! Read more here.