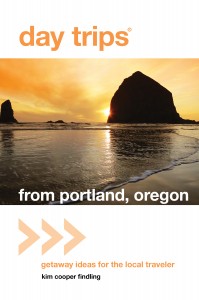 So begins the "Day Trips" blitz!
Today's trivia question:
What is the name of Oregon's oldest bookstore, and where is it located?
email me your answer at kimcf at bendcable.com today. I'll post the answer tomorrow, and keep track of correct answers over the next week and select a winner of a free book on Black Friday!
Today's excerpt:
From the chapter:
Farm and Garden
Mt. Angel, Silverton
Mt. Angel Moonshine
There was a time that Silverton was dry and Mt. Angel was wet. No, they weren't subjected to strangely alternating weather patterns. Before Prohibition, Mt. Angel could legally sell alcohol and Silverton couldn't. Commerce working the way it does, those with managed to make an industry out of providing to those without. One point of transfer was the Gallon House Bridge, the last of Marion County's original covered bridges. Located over Abiqua Creek on Gallon House Road a little more than a mile northwest of Silverton, the bridge was constructed in 1917. Soon after, the north end of the bridge became a pigeon drop, or place to exchange "white lightning" whisky for cash. The illegal trade is long gone, but the bridge remains. It's worth seeing, and you can still make a toast while you are here—even if it's just with a swig from your water bottle.
Whether they're moonshine guzzlers or teetotallers, buy your family and friends a copy of "Day Trips From Portland: Getaway Ideas for the Local Traveler" for the holidays at Powell's or Amazon. It's on Kindle, too! Read more here.