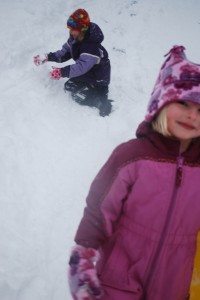 Woke up to a foot of snow.
Being the Oregon travel expert that I am, I declare today NOT a good day for a day trip.
"Thank you, Master of the Obvious," Captain Daddy would say, if he were here.
As it were, he came blasting home from the fire station at 7:30 a.m., regarded the significant snow shoveling I'd already accomplished, announced, "Your next priority is the back deck," kissed the chickens, and then vanished into thin (snowy) air again to tackle intrepid Captain Daddy tasks unknown.
This is what it's like to be married to a fire captain, fyi. Hero to the masses, phantom to me. Not to mention good at delegating.
Had to cancel my scheduled book gig trip to Olympia, WA, for tomorrow. A bit too far to journey in so much fluffy slippery white stuff for my taste. I'm rescheduling that one for spring (Thanks, Gray Skies Reading Series, for understanding!).
Nevertheless, the chickens and I are still on track to venture to Eugene on Saturday to present my book "Day Trips From Portland: Getaway Ideas for the Local Traveler" at the Eugene Home and Garden Show. I am speaking at 3:30 this Saturday on the Willamette Stage – Room 1 – located off the North Lobby of the Lane County Convention Center.
I'll bring "Chance of Sun: An Oregon Memoir" along for the ride, too (and maybe incite some actual sun—you never know).
This will be the first time I've traveled through snow to book gig and the first time I've taken the chickens along with me! Adventure awaits! Good thing I love traveling around Oregon so very much. What a great job I have.
Now, back to the driveway.