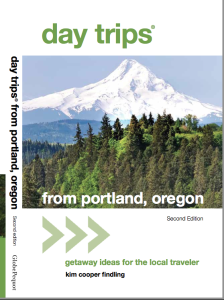 I have an event coming up this month in tandem with the release of Day Trips From Portland: Getaway Ideas for the Local Traveler, second edition. Hope to see you there!
Traveling Oregon's Backroads and Quick Getaways
May 21, Sunriver Deschutes Public Library, noon
As the editor of Cascade Journal, the author of "Day Trips From Portland," and the Central Oregon ambassador for Travel Oregon's "Ask Oregon" program, travel writer Kim Cooper Findling knows a few things about Oregon's popular destinations, hidden gems and everything in between. Join her as she highlights some great day and weekend trips that are perfectly suited for anyone who considers Central Oregon their home base.