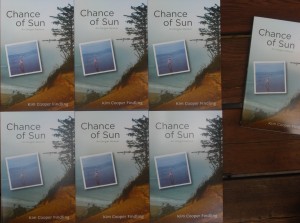 Updated tour dates for "Chance of Sun: An Oregon Memoir." Of course I"ll be schlepping "Day Trips From Portland: Getaway Ideas for the Local Traveler" too! Hope to see you out on the road! Also see Nestucca Spit Press Website Chance of Sun Book Tour List
Chance Of Sun Book Tour 2012
Date
Time
Place / Event
City
Address / Map
January 21
3:30 p.m.
Good Earth Home, Living and Garden Show
Eugene, OR
825 Columbia St., (map)Lane County Fairgrounds
February 11
2 PM
Grass Roots Books & Music
Corvallis, OR
227 SW 2nd. (map)
February 13
3:30 PM
Linn-Benton Community College
Albany, OR 97321
6500 Pacific Blvd. SW (map)
March 8
7 PM
North Bend Public Library
North Bend
1800 Sherman Ave. (map)
(541) 756-0400 ‎
April 20
6-10 PM
Tualatin Country Club HomeWord Bound
Tualatin, OR 97062
9145 SW Tualatin Road (map)
April 26                    3 – 5 p.m.           UO Bookstore                                         Eugene, OR
May 5                       10 a.m. – 2 p.m.   Atkinson Book and Author Fair     Oregon City, OR
July 14                 11 a.m. – 1 p.m.         Klindt"s Books       The Dalles, OR
August 30            evening – TBA            Nature of Words           Bend, OR
Past dates included Powell"s Books, Blackbird Wine Shop, Books By the Bay, The Book Parlor, The High Desert Museum, Garibaldi Historical Museum, and more.
"Chance of Sun: An Oregon Memoir"
From the website of the publisher,Nestucca Spit Press:
In her debut as an author, Kim Cooper Findling's Chance of Sun: An Oregon Memoir, unfolds the story of an Oregon girl coming of age in the 1970s and 80s, navigating her way through pick-up trucks, dive bars, higher education and backwoods trails before finding a place she belongs.
Beginning with her best online casino childhood in Coos County, Findling relates a rural upbringing spent walking beaches and hiking in the woods with her forester father, attending summer camp just over the hill from the Oregon Country Fair, road-tripping to the Oregon Shakespeare Festival with schoolmates, and learning about the fickleness of love in campgrounds, beer joints and on the University of Oregon campus. Yet, following a move to Oregon's biggest city after college, Findling lost her way and her connection to Oregon's landscape, becoming caught up in the drugs and booze that flowed so freely in Portland's restaurant scene. But it was Oregon that helped Findling find herself again later, this time on the east side of the mountains, where she found clarity in High Desert trails and a wide-open sky, as well as life's most grounding phenomenon—love.
In 23 essays set over 20 years, Findling traces her own coming-of-age story against the beauty and complexity of the Oregon landscape. Nestucca Spit Press Publisher Matt Love writes,"In Chance of Sun, Kim Cooper Findling presents a fresh and distinct literary voice. I might even call it sexy. At long last we have a memoir by someone that captures the fantastically loose and earthy spirit of growing up in Oregon during the 1970s and 80s."
Chance of Sun is available at:
Between the Covers Books, Bend
Ekahni Books, Manzanita
Paulina Springs Books, Sisters
Grass Roots Books, Corvallis
Annie Bloom's Books, Portland
Broadway Books, Portland
The Book Parlor, Burns
Books By the Bay, North Bend
Multnomah County Libraries
Deschutes Public Libraries
"Day Trips From Portland: Getaway Ideas For the Local Traveler," published by Globe Pequot Press, is available at powells.com, amazon.com, and most book retailers. 
Day Trips from Portland, Oregon is your guide to hundreds of exciting things to do, see, and discover in northwest Oregon and southwest Washington. This book is rich with tips on where to eat, shop and stop in dozens of cities within a two- to three-hour drive from Portland, including Astoria, Bend, McMinnville, Oregon City and many more. Don't miss a thing, including world-class wineries, art galleries, historical sites, recreation destinations and restaurants. Find hidden gems, like an amusement park populated with elves and fairies, a beach made of black cobbles, the West's only UFO festival, Oregon's last drive-in movie theater, and a 28-foot tall concrete Bigfoot. Discover the lost art of a great day trip with Globe Pequot Press's Day Trips From Portland,which includes full trip planning information, maps and directions. A great resource or gift for Portlanders, Oregon lovers, and wanderers alike.