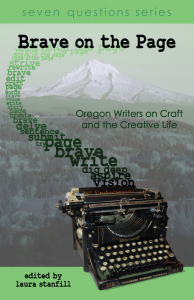 The new book Brave on the Page, released today, features interviews with 15 Oregon authors, one of whom is me. Thank you, editor Laura Stanfill, for producing such a fantastic collection, and for including me!
Here's more info:
Brave on the Page: Oregon Writers on Craft and the Creative Life will be released on Monday, October 8, by Forest Avenue Press. It's a craft book, a how-to guide, a catalogue of successes and failures, and above all, a celebration of what it means to be a writer in Oregon.
The 200-page collection, edited by Laura Stanfill, features forty-two authors and their views on creation, revision and the publication process. Starting on October 8, Brave on the Page, $14, will be available made-to-order at the Espresso Book Machine in the purple room at the downtown Powell's Books, 1005 W Burnside, Portland. It will also be available at any Espresso Book Machine around the world (see the list of locations here) or online at ondemandbooks.com.
Look for Brave on the Page at Wordstock, Portland's literary festival, at the Espresso Book Machine booth inside the Powell's Marketplace from 10 a.m. to 1 p.m. on October 13 and 14.
For more information, details about upcoming Brave on the Page events, and links to posts and publicity, see the new Forest Avenue Press blog.