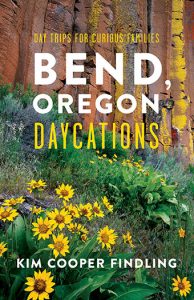 Thanks, Bend!
I have been thrilled by the local support for my newest book, "Bend, Oregon Daycations: Day Trips for Curious Families."
Local businesses have sold over 1200 copies since the book's launch date, last October 1. Wow!
It's not too late to shop local and get your copy to squeeze in a few more day trips this late summer and early fall.
Here's a list of the wonderful places in and around Bend to buy your copy as well as a cup of coffee, tee shirt, ice cream cone, and more.
Barnes and Noble, Bend
Dudley's Bookshop, downtown Bend
​Roundabout Books, Bend
Bluebird Coffee, downtown Bend
Visit Bend, downtown Bend
Baskin Robbins, Bend
The High Desert Museum, Bend
Strictly Organic, Bend
​Newport Market, Bend
Herringbone Books, Redmond
Powell's City of Books, Portland
Raganelli's Pizza, Tumalo
Paulina Springs Books, Sisters
LaPine Visitors Center, LaPine
​Brasada Ranch General Store, Brasada Ranch
Camp Sherman Store, Camp Sherman
Clementine, downtown Bend
Hello Sunshine! Old Mill District, Bend