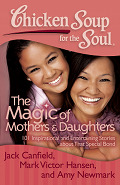 I"ve been meaning to tell you all that an essay of mine is included in a book released earlier this month.
Chicken Soup for the Soul, people. "The Magic of Mothers and Daughters."
Yep. The cover is pink.
It"s an essay called "A Better View" I wrote about a trip Chicken Noodle and I took to Hawaii when she was little bitty. The first two sentences are, "As my two-year-old daughter and I arrive at the airport on a cold January morning, I am thinking that in the next ten hours practically anything could happen. If ever there is a time to fear one's own child, it's at the outset of a full day of air travel."
It took so long to publish this one, the two-year-old can now read it herself!
You can purchase this book everywhere, I presume. The Chicken Soup folks say "Moms and daughters will laugh, cry, and find inspiration in this collection of entertaining, poignant, and heartwarming stories that remind them of their shared love, appreciation and special bond. A great gift for Mother"s Day."
I wonder if I own the rights to my essay? There must be a contract I signed around here somewhere, perhaps under my taxes and these glitter sequins the chickens spread about my office while I was in Portland at the Oregon Tourism Conference.
They are quite lovely. Desk bling.
I"ll put "A Better View" on my Website soon. It won"t be pink.