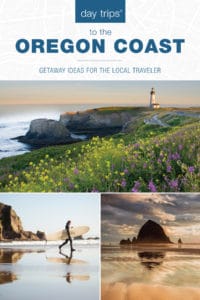 Friends and Fellow Oregon Lovers,
The timing couldn't be worse, and yet here it is—the publication date for my book, DAY TRIPS TO THE OREGON COAST: GETAWAY IDEAS FOR THE LOCAL TRAVELER. Yay? I find it especially appropriate that today is April Fool's Day.
My fifth book features places to go, eat and stay in 21 beautiful Oregon Coast communities. Yet right now we can't, and shouldn't, travel to the Oregon Coast. Per Governor Kate Brown's orders, and out of the highest concern for one another, we need to stay at home.
Still, I know that the day will come once more when many of us climb in the car and head for our favorite place—the beach. When that time arrives, perhaps my book will be a valuable guide. In the meantime, may thoughts of our beloved Oregon Coast and the amazing people who make it so lend you inspiration, hope, and remind you that road trips, family outings, beach walks, fresh seafood, and ocean sunsets will be ours again.
Stay tuned for (hopefully) rescheduled book events later this year. In the meantime, how about supporting an Oregon indie bookstore by ordering a copy of my book, or another? Here are several shops currently taking mail orders.
Powell's Books, Portland, Oregon
Roundabout Books, Bend, Oregon
Paulina Springs Books, Sisters, Oregon 
Cloud and Leaf, Manzanita, Oregon
Another Read Through, Portland, Oregon
Be well,
Kim
Getaway Ideas for the Local Traveler, 1st Edition
KIM COOPER FINDLING
Calling all Oregon residents and visitors who want to hit the beach armed with an expert-driven itinerary and all the know-how to make the most of a family day trip. Day Trips to the Oregon Coast presents narrative itineraries detailing the perfect travel day in each of 21 Oregon Coast destinations, traveling north to south. Learn where to go, what to see, and what to do as a family in each region of the Oregon Coast. Insider tips, narrative anecdotes and a detailed step-by-step itinerary guide you on your next adventure.
Globe Pequot
Pages: 224 • Trim: 6 x 9
978-1-4930-4504-4 • Paperback • April 2020 • $17.95 • (£11.95)
978-1-4930-4505-1 • eBook • April 2020 • $17.00 • (£10.95)