At the outset of the pandemic, I entered a Zen intensive with a most unusual sensei.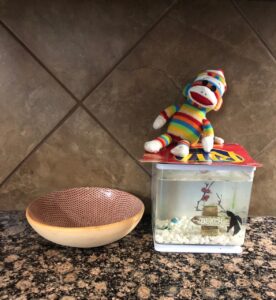 Romeo is a fish that lives in our kitchen. My daughter chose him from a pet store four years ago, when she was 11. She bought him with her own money along with a square plastic fishbowl, white rocks and a decorative accessory: a mock-wood signpost that reads "beach" in jaunty letters with an arrow pointing the way. Ever since we brought him home, Romeo's habitat has sat in the same place on the counter, next to a ceramic fruit bowl that rarely holds any fruit.
As Romeo was born a betta fish, and betta fish aren't known for playing well with others, he lives alone. There is no Juliet. He is occasionally visited by our two cats, but I doubt Romeo relishes these encounters, which more closely resemble ambushes. The cats have never gone so far as full attack, or even paw-in-bowl, as far as I know, but slurping up a sip or two of Romeo's water isn't below them. Water, Romeo's very lifeforce, the element necessary for his existence, is just a moment's hydration to Seuss and Clyde. Eventually, we cut the cardboard side from of a box of Ritz crackers and placed it top of his habitat, red side up, because our neighbor told us betta fish hate the color red, and we didn't want to upset Romeo — our aim was to help and protect. We placed a rainbow sock monkey atop the cardboard platform, to serve as Romeo's personal sentry and cat deterrent.