C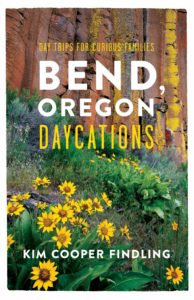 oming soon! Stay tuned for a release later this month.
Announcing Bend, Oregon Daycations: Day trips for curious families, by Oregon author Kim Cooper Findling.
Today is perfect for a daycation. Calling all Bend, Oregon visitors, new residents and anyone who is curious about the exciting destinations that surround this beautiful city. Bend, Oregon Daycations is your source for fun one-day travel narratives for families. Learn what to take, where to go, and what not to miss on 19 Oregon day trips within a two-hour radius of Bend.
Follow easy itineraries packed with information to explore these places and more:
The Painted Hills: Take a hike, learn about Oregon's geologic history and eat homemade pie.
Newberry Crater: Explore an obsidian flow, dip your toes in the lake and see a waterfall.
The McKenzie River: Gaze at the famous Blue Pool, learn about the river's unique hydrology and walk on a lava flow.
Crater Lake: Take a boat ride in a volcano, eat in a 100-year-old lodge and contemplate the United States' deepest lake in Oregon's only national park.
Camp Sherman: See a river spring from the ground, eat ice cream at a country store, and feed salmon their lunch.
What people are saying:
"Kim's first-hand knowledge and love of the area combined with her knack for candid reflection and laugh-out-loud storytelling results in a delightfully fresh, engaging, witty and personal guide of wanderlust-inspiring travel destinations. For adventure seekers and families eager to explore the scenic beauty of Central Oregon (and where to get a beer along the way) this travel guide is a must-read." ––Mariah Wilson, local writer and regional expert
Kim Cooper Findling is an award-winning Oregon travel writer and editor. She is the editor of Cascade Journal, the author of Day Trips From Portland: Getaway Ideas for the Local Traveler and Chance of Sun: An Oregon Memoir and the Central Oregon ambassador for Travel Oregon. Kim grew up on the Oregon Coast and has lived in Bend, Oregon for over 20 years. See kimcooperfindling.com.
Bend, Oregon Daycations: Day trips for curious families. $12.95. ISBN-13: 978-1536853391.
Available at amazon.com, kimcooperfindling.com, at local bookstores and through book distributors.