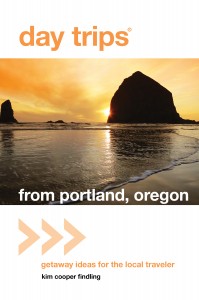 Today's Trivia Question:
Where in Oregon can one fine a life-sized Glockenspiel?
Email me your answer today!
Yesterday's Question and Answer:
Which Oregon city boasts the only vertical street in North America?
Oregon City, where a municipal elevator connecting two levels of the city went into service in 1915, officially named "Elevator Street".
Today's Excerpt:
From the chapter:
Be A Beaver
Corvallis
One Enchanted Afternoon
The Enchanted Forest is part Oregon legend, part every kid's fantasy daytrip. This attraction built into a forested hillside just off of I-5 near Turner has been a part of the local scenery and culture since the 1970s. It's much more than a theme park. Within its magical boundaries are a log ride, dragons, monsters, a storybook lane, a western town, a kiddie train, bumper cars, a haunted house, an English village, gnomes, cowboys, princesses and Humpty Dumpty. It's all a little bit quirky—no flashy over-produced style here. That vibe is what makes the place so special. Kids love it, and adults are charmed, too. The whole project remains in the hands of its creator, Roger Tofte, and his family. That love and undivided attention shows. Prices vary by attraction but are generally very reasonable. The Enchanted Forest is located at 8462 Enchanted Way Southeast in Turner. Use Exit 248. Because of its convenient location on I-5 between Salem and Albany, a visit to this fun park would be easy to include in a couple of other day trips in this book, including Eugene and Mill City. See www.enchantedforest.com or call (503) 363-3060 for more information.
I took the chickens there this summer, and it was a blast.
Day Trips From Portland: Getaway Ideas for the Local Traveler." Read More. Purchase.