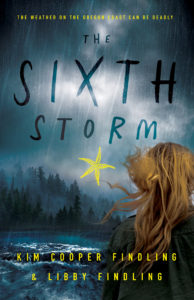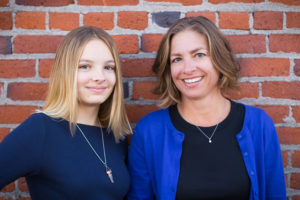 The weather on the Oregon Coast can be deadly.
Every January, Skye Clancy's mother slips into despair on the anniversary of a devastating storm that claimed her sister. But no one is allowed to talk about it, or any of the other strange deaths that have haunted the family. This January, days before Skye's 14th birthday, a new set of vicious storms are unleashed upon her small Oregon Coast town. Clues begin to appear, and Skye realizes that the weather is tormenting her family above all others, and has been for decades. As a family legacy of death and destruction by terrible weather is revealed, and in the face of nature's fury, Skye embarks on a journey into the wild woods of Oregon—and into the past—to solve the mystery and reverse the curse.
The Sixth Storm is a teen mystery novel set in the fictional town of Starfish Cove on the Oregon Coast. The book is authored by Kim Cooper Findling and her daughter Libby Findling, of Bend, Oregon.
"The way this book came about is its own thrilling story," says Kim Cooper Findling. "As the author of three non-fiction books, I never planned to write fiction. Libby was my catalyst, inspiration, muse and editor, and writing a book with her was a total blast."
Kim and Libby spent two years writing the book and pitching it to agents and publishers. Says Kim, "The plot twist was still to come. In the search for a press to publish our book, we ended up buying a small book publishing company."
The Sixth Storm will be released March 1 by Dancing Moon Press, a 22-year-old book publishing company founded by Carla Perry on the Oregon Coast, and now owned by Kim Cooper Findling.
Kim Cooper Findling is also and editor for Oregon Media and the author of Bend, Oregon Daycations: Day Trips for Curious Families, Chance of Sun: An Oregon Memoir and Day Trips from Portland: Getaway Ideas for the Local Traveler. Libby Findling is an 8th grader, actor, and artist. The authors are available for interviews and speaking engagements.
The Sixth Storm
Release date: March 1, 2019
Retail $9.99
ISBN 978-1-945587-32-0
Available at local bookstores and online