Day Trips from Portland: Getaway Ideas For The Local Traveler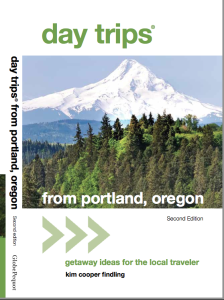 Need a day away to relax, refresh, renew? Just get in your car and go! This second edition of Day Trips from Portland, Oregon is your updated guide to hundreds of exciting things to do, see, and discover right in your own backyard.
With full trip-planning information and tips on where to eat, shop, and stop along the day trip. Explore places you never knew existed, many free of charge, and most within a three-hour drive of Portland.
Ooh and ahh at the Kite Festival, dig for clams, and tour three lighthouses on the Long Beach Peninsula.
Drive the Historic Columbia River Highway to view a dozen waterfalls, the magnificent Columbia Gorge, and a lush green forest.
Take in some farms, vineyards, and gardens; do some serious shopping and wine tasting; and experience a UFO Festival, if you dare, in McMinnville and Carlton.
Globe Pequot's DAY TRIPS® series provides detailed itineraries for city dwellers and visitors looking for a short getaway. Every carefully planned escape provides travel directions, destination highlights, detailed maps, and recommendations for dining, lodging, and entertainment.
About the Author
Kim Cooper Findling grew up on the Oregon Coast, spent years in the Willamette Valley, and has lived in Central Oregon for 19 years. She is the editor of Cascade Journal, an ambassador for Travel Oregon, the author of Chance of Sun: An Oregon Memoir, and her work has appeared in numerous publication including The Oregonian and Horizon Air. Visit her at www.kimcooperfindling.com.
Day Trips® from Portland, Oregon
By Kim Cooper Findling
ISBN 978-1-4930-1274-9 • $16.95 • Paperback • 6 x 9 • 254 pages • May 18, 2015
Globe Pequot is the flagship imprint of Rowman & Littlefield's trade division.
Excerpt:
Living Volcanoes: Silver Lake and Toutle, Washington
Once upon a time Mt. St. Helens was known for its perfect shape. Now it's known for its massive crater. On May 18, 1980, the beautiful mountain in the North Cascade Range blew its top. Everyone who was living in the Pacific Northwest remembers that event—ash fell in a radius of hundreds of miles. The eruption caused the largest landslide in recorded history. Winds reached over 300 miles per hour, and the valley below the mountain was instantly scoured by heat, wind, ash and rock. Many folks lost their lives, as did countless wild animals.
Today, Mt. St. Helens is still treated with the reverence and awe that it earned that cataclysmic day. But in the thirty-plus years that have passed, the area has also become a testament to the power and beauty of nature and the ability of the land to make a rapid recovery. Earth that was once practically annihilated has transformed into a green landscape once more, and bright flowers and green seedlings have taken their place where once there was only ash and mud.
Silver Lake is the first town off of I-5 en route to Mt. St. Helens. Though it's just a few miles off of the very busy north-south interstate between Portland and Seattle, this small town feels alpine and rustic. You can feel the weight of the vast wilderness ahead, pulling you out of the city and into a terrain that is both lush and austere.
Though in a different way than years ago, Silver Lake remains a recreational playground. Visitors come here every year for skiing, spelunking, hiking, camping, horseback riding and more. Fishing is very popular—Silver Lake is one of the best largemouth bass lakes in Western Washington, and also boasts crappie, bluegill, trout, catfish and edible carp. Tourism thrives here—thousands of people a year find that they just have to get a glimpse of that amazing Mt. St. Helens.
Getting There
From Portland, take I-5 north towards Seattle. Continue for 55 miles. Look for WA-411 S/WA-504 E exit, Exit 49, towards Castle Rock/Toutle. Turn right onto WA-504/Mt. St. Helens Way NE/Spirit Lake Hwy. Continue for 6 miles into Silver Lake.
Cloudy With a Chance of a Ruined Day Trip
I visited Mt. St. Helens for the first time over 15 years ago. In 1980, when I was a child living with my family on the Oregon Coast, the explosion had been positively major news. Not only was it the primary story in the papers and on television for weeks, but, although we were 300 miles from the mythic mountain, volcanic ash fell in my own backyard.
By the time I finally ventured to Mt. St. Helens as an adult, a visit to the West Coast's most famous volcano was long overdue. A friend and I drove north from Portland on I-5 on a fair day in June, wound our way through the mountainous terrain of WA-504, and emerged at the rim to gaze upon…a thick bank of low-hanging clouds completely enveloping the crater. We couldn't see a thing. This is, after all, the Pacific Northwest. Clouds happen.
One of the advantages to today's world is that there are high-tech tools to use to check the weather in advance of a much anticipated day trip. Check www.noaa.com for general weather conditions in the Mt. St. Helens region or try the Mt. St. Helens Volcano Cam, www.fs.fed.us/gpnf/volcanocams/msh, for an image of the crater itself in live time. Things might change during your drive, but at least you'll have a better shot of making sure you get a crystal clear view of that awesome crater.