---
---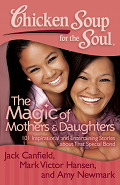 I"ve been meaning to tell you all that an essay of mine is included in a book released earlier this month.
Chicken Soup for the Soul, people. "The Magic of Mothers and Daughters."
Yep. The cover is pink.
It"s an essay called "A Better View" I wrote about a trip Chicken Noodle and I took to Hawaii when she was little bitty. The first two sentences are, "As my two-year-old daughter and I arrive at the airport on a cold January morning, I am thinking that in the next ten hours casino practically anything could happen. If ever there is a time to fear one's own child, it's at the outset of a full day of air travel."
It took so long to publish this one, the two-year-old can now read it herself!
You can purchase this book everywhere, I presume. The Chicken Soup folks say "Moms and daughters will laugh, cry, and find inspiration in this collection of entertaining, poignant, and heartwarming stories that remind them of their shared love, appreciation and special bond. A great gift for Mother"s Day."
I wonder if I own the rights to my essay? There must be a contract I signed around here somewhere, perhaps under my taxes and these glitter sequins the chickens spread about my office while I was in Portland at the Oregon Tourism Conference.
They are quite lovely. Desk bling.
I"ll put "A Better View" on my Website soon. It won"t be pink.
---
---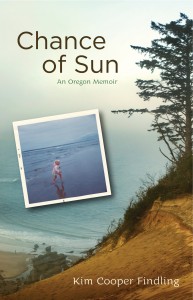 "Chance of Sun: An Oregon Memoir" released today on amazon.com as an e-book! "A story of sex, drugs and camping" is now available for immediate download to your Kindle, Ipad, etc. for just $6.99. You can't even get a decent martini for that.
Here's what it's all about:
In her debut as an author, Kim Cooper Findling's Chance of Sun: An Oregon Memoir, unfolds the story of an Oregon girl coming of age in the 1970s and 80s, navigating her way through pick-up trucks, dive bars, higher education and backwoods trails before finding a place she belongs.
Beginning with her childhood in Coos County, Findling relates a rural upbringing spent walking beaches and hiking in the woods with her forester father, attending summer camp just over the hill from the Oregon Country Fair, road-tripping to the Oregon Shakespeare Festival with schoolmates, and learning about the fickleness of love in campgrounds, beer joints and on the University of Oregon campus. Yet, following a move to Oregon's biggest city after college, Findling lost her way and her connection to Oregon's landscape, becoming caught up in the drugs and booze that flowed so freely in Portland's restaurant scene. But it was Oregon that helped Findling find herself again later, this time on the east side of the mountains, where she found clarity in High Desert trails and a wide-open sky, as well as life's most grounding phenomenon—love.
In 23 essays set over 20 years, Findling traces her own coming-of-age story against the beauty and complexity of the Oregon landscape. Nestucca Spit Press Publisher Matt Love writes,"In Chance of Sun, Kim Cooper Findling presents a fresh and distinct literary voice. I might even call it sexy. At long last we have a memoir by someone that captures the fantastically loose and earthy spirit of growing up in Oregon during the 1970s and 80s."
Buy as a real live paper book here